Shopping Cart
Your Cart is Empty
There was an error with PayPal
Click here to try again
Thank you for your business!
You should be receiving an order confirmation from Paypal shortly.
Exit Shopping Cart
R&B singer songwriter Steven Knight has released his first non-Holiday single in nearly 3 years entitled "Happy". It was written and produced by KayJay TheProducer. This is perfect for the Valentine's Day. Later this year, he will his highly anticipated EP yet untiled.
"Happy" will be available for download and purchase Tuesday, January 28, 2020.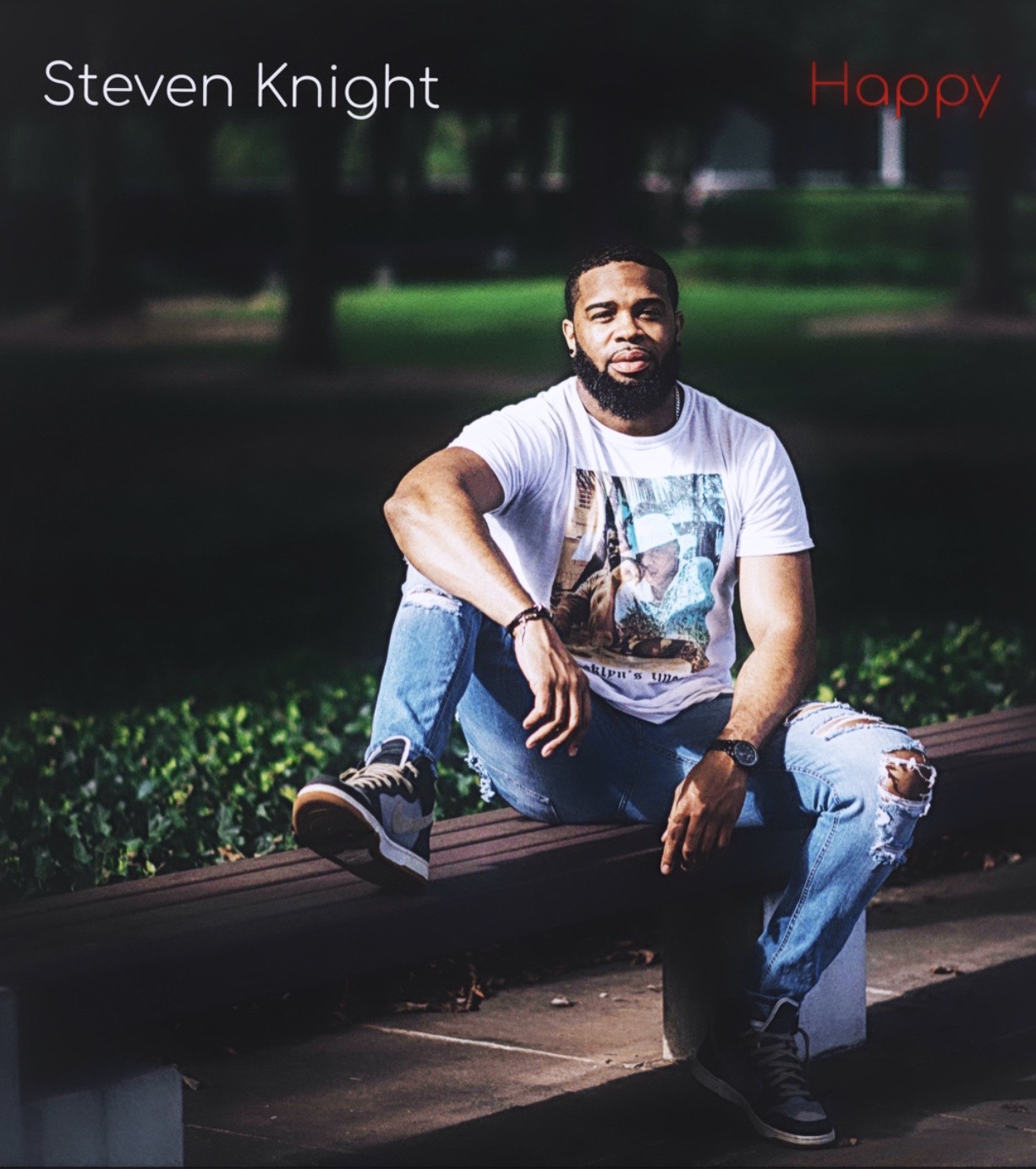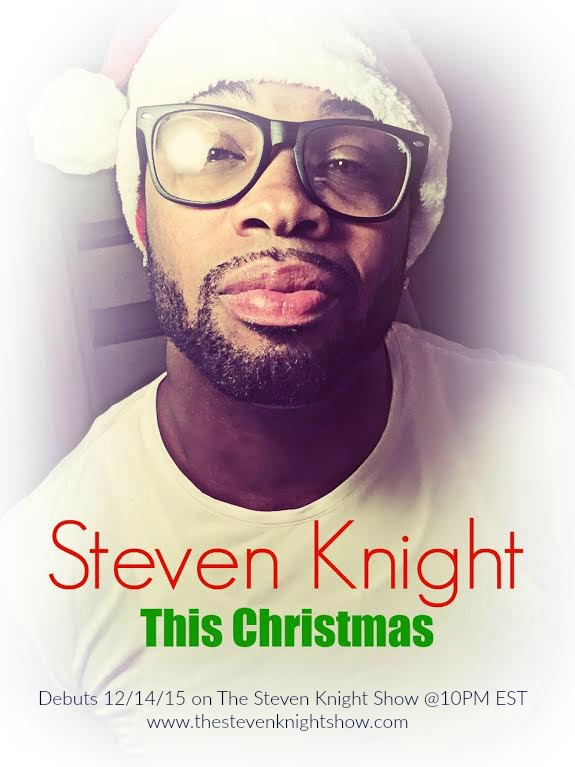 Steven's been working hard on his upcoming EP scheduled to be released first quarter of 2016 but it did not stop him from recording the 1975 Donny Hathaway holiday classic "This Christmas". 
"I just want people to have fun, dance and sing along to this record," Knight said in a recent interview. 
This is Knight's first release since his renditionof the Christmas song "Mary Did You Know" in 2014.  Steven has been hard at work completing his upcoming EP that has yet to be titled.  His rendition of "This Christmas" will debut Monday, December 14, 2015 on his award winning internet radio show, The Steven Knight Show at 10PM EST. 
For more details visit www.thestevenknightshow.com

Last week Steven was interviewed by 1st AND Monday's Bruce Harris.  Check out the write up and listen to the interview below!
Podcast #81 Steven Knight (R&B from Atlanta, GA)
May 11th, 2015
DSC_08261
The FirstAndMonday.com Podcast, hosted by Bruce Harris: episode #81.
Steven Knight is an R&B singer from Atlanta, GA. He called into to share a couple of his songs and to talk to Bruce about playing basketball in high school, trying to avoid having a bod dad and his experiences hosting his own podcast called The Steven Knight Show.
Also this week, Bruce compares to wide receivers who both wore #81: Terrell Owens (a great, great player) and Tim Brown (a nice player who had a decent career).
Listen below:

http://firstandmonday.com/sports/podcast/podcast-81-steven-knight-rb-from-atlanta-ga/
An Interview With Radio Host Steven Knight
Posted: March 1, 2015 in radio personalities
Tags: Atlanta, best blogs, best of worpress, bloggers, georgia, oprah, radio, radio interview, singers who host radio shows
Steven Knight is a singer/songwriter who is the host of The Steven Knight Show on EOTM Radio Networks; here is a link to his website:
http://www.thestevenknightshow.com/
Q: What made you interested in hosting your own radio show?
A: I did an interview promoting my music with Rahn Anthony on EOTM Networks and from there I was actually asked to host my own show based on my Facebook page and interaction with my online friends. Initially I turned down the offer but Rahn expressed how much exposure I would get and the interesting people I would meet so I eventually agreed to do it.
Q: What makes your show unique?
A: I think our show is unique because we mix celebrities with every day people. We not only provide exposure to the big names but also to those who have a great brand but just need that introduction to the masses. Plus our team is pretty funny. I have a great time each week and I think that comes through to our listeners.
Q: How do you go about procuring material for your show?
A: We solicited guests to be on our show but being in our 5th season now, we get tons of PR people wanting their clients on the show. Our inbox stays full which is a blessing. A lot of people really want to be on this show.
Q: Who was your most challenging interview?
A: Years ago I was asked to interview this 14 year old music artist. This would be my first time interviewing an adolescent but I agreed to do it as a favor. When the interview started, I was getting nothing but one word answers and I really felt this interview was not going well. His mother had also called into the station but I figured it was for moral support. It turns out that the young man was autistic when lead to a bigger conversation and completely turned the interview around. It ended up being a success. I just wish I would have known that going in but either way it was a great experience.
Q: What kinds of day jobs have you had and how do they influence your creative work?
A: For the past 8 years I have been in staffing and one key skill needed to be successful is the ability to listen. That also is true to being a good interviewer. You have to be able to listen to the guests and know how to direct the conversation. I don't like my interviews to be overly scripted, so I listen and ask questions based on what the guest is telling me.
Q: How did you go about promoting your show?
A: Social media is our best friend. We are all over the net so that is our biggest form of promotion but I also promote when I perform at an event, etc. Chike (producer & movie review contributor) does a lot of promotion at events he hosts, etc as well.
Q: Who are some of your radio show hosting heroes and why?
A: In an effort to become a good interviewer, I have listened to many different types of people who do this. Anyone from Steve Harvey to Oprah to the team at the Breakfast Club, etc. Each person has their own style but I have learned a lot from listening to them and studying the way they interview. So there is not just one radio show hosting hero. There are many.
Q: What are some themes you like to write about in your music?
A: With my music I want to make timeless songs that can be heard and still relevant years to come. I try to write songs that speak to our different moods – whether it's being in love, dealing with a break up or just having a good time. I try to speak to things that I can relate to you.
Q: Why Atlanta and not New York or Hollywood?
A: I actually never wanted to live in Atlanta until 2006 when I came down to visit with some friends. As we were leaving to head back to VA, we stopped to get directions so that we could get back on the highway. This guy provided them for us and then started talking about music and gave me the numbers to his contacts in ATL. As I was driving back, my mind started thinking and I knew that I needed to get to Atlanta. That was over 8 years ago and I have been thinking about relocating to NY. It would just have to be the right situation but definitely a strong possibility. Atlanta has been good to me but I am definitely ready for a change and new exposure.
Q: If you could have your choice of guests on your show, who would you pick and why?
A: I would love to interview Oprah, Jay Z and other stars of that caliber because I believe they are great teachers in their own rights. I have interviewed so many people from different backgrounds, etc and have learned so much over the years. I definitely believe Oprah and Jay Z could teach me some value tools about success and managing it all.
Please note; Eliza's interviews are done by email. All answers are unedited and come right from the lovely fingertips of her subjects:)
http://elizagalesinterviews.com/2015/03/01/an-interview-with-radio-host-steven-knight/
What's going on everyone!
I hope all is well in your worlds. I just wanted to share a new Christmas song that I recently recorded with the talented Redris Bell. Last year my mother asked me to learn the lyrics to "Mary Did You Know" and to sing it for her once I was in town for Christmas. I did but decided this year I would surprise her by recording it. Redris did an awesome job with the track and he and I knocked it out. I hope you have a wonderful holiday season and enjoy my new song.
Steven Knight – Mary Did You Know
https://soundcloud.com/stevenknight32/steven-knight-mary-did-you-know
Happy Holidays,
Steven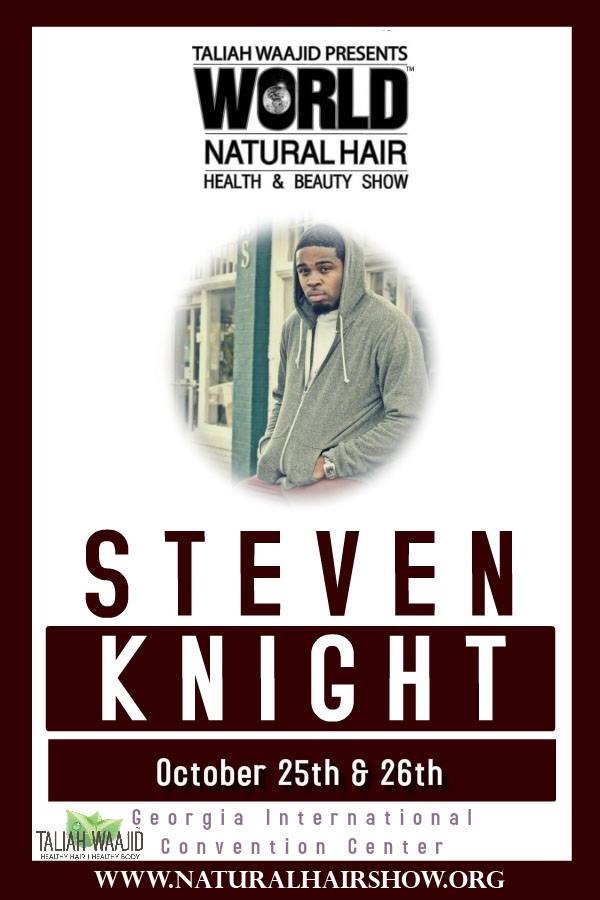 Steven Knight will perform on the Main Stage at the 17th Annual TALIAH WAAJID Presents - World Natural Hair, Health & Beauty Show on October 25, 2014 at 12:30PM EST.
Location
Georgia international Convention Center
200 Convention Center Concourse - Atlanta/College Park
For more information, please visit - http://naturalhairshow.org/.
MUSIC REVIEW: Steven Knight – On My Way
Published by EOTM News Editor on July 1st, 2014 - in Breaking News, EOTM Music CD Reviews, EOTM New Music Critiques, EOTM News, Music News
By Carla B.
Follow us:@eotmonline on Twitter |EOTM.Media on Facebook
Mainstream R&B music isn't what it used to be, I can hardly bring forth enough motivation to sit through 3 to 4 minutes of pure gibberish… more often than not.
Case in point:Usher & Juicy J "I Don't Mind" (Sounds like a desperate cry from a hit-maker trying to stay relevant. So the question then becomes, is this the new norm for R&B music?)
But if you are a fan of my music reviews you already know how I feel about this. Which is why I have decided to only critique indie music, I'm okay with being bias in this way. (Ijs)
So, last night folks I had the opportunity to sit back and listen to Atlanta based artist Steven Knight's new single, On My Way.
I don't know what it is about Steven Knight's music, but the first listen always has me thinking, it's pretty good. The second listen has me thinking, this is really good. And the third time listening I think, "How did I ever live without this song"?!
Listening to Steven's new single makes it feel like summer even if it's raining outside.
SEE ALSO:Eminem's 'Rap God' – EOTM Music Review
Notably, the singer has garnered lots of attention thanks to the buzz from his singles "Forever," "Never Know" and "Trying" to name just a few — now with the release of On My Way, Knight is set to have his breakthrough. (If you hurry you can still say you liked him before he hits it big)
Opening with Knight's rich and soulful vocals, elevated display and his songwriting… man, this boy doesn't mince words. Steven's passionate lyrics cut home and put the vast majority of "R&B" and "Pop" music to a sorry shame. Knight doesn't leave any room for doubt and all with a mastery that leaves many self-professed "artists" in the proverbial dust.
His tone is delightful and the track demonstrates his diverse dimensions as an artist. With such a positive message beaming through the lyrics, there's always a risk of coming off cheesy or generic, but Knight avoids both these landmines and has offered a message of optimism and hope to listeners everywhere. The titular refrain of On my way is not only bloody catchy, it is a wonderful blend of soothing melodies and indie vocals aimed at inspiring music lovers.
"I know he broke your heart tears rolling down your face, you know I'm coming over to make sure you okay. You don't have to wait, Imma save the day. Call me superman…"
Crooning with conviction that things will get better, Steven's one step closer and well on his way.
To summarize, On My Way is a fitting song for this point in Steven Knight's career. It's a strong single and the best offering from the 'Forever' singer, yet. He's certainly one of the most interesting male artists to come out of Atlanta in a while. With a great look, songs to back it up and some serious swag we'll be keeping a close eye on this one.
Oh, and just in case you hadn't picked up what I thought about this track. It's brilliant. My second perfect score this week!
Buy tickets for Jay-Z and Beyonce at TicketNetwork.com
On My Way ✴✴✴✴✴✴✴✴✴✴ | 0 1 2 3 4 5 6 7 8 9 10
The new single hits all digital platforms in a couple weeks. Connect with Steven Knight on Facebook and Twitter.
Producer: Feenix
Writers: Steven Knight and Feenix
Vocal Arrangements: Steven Knight, Feenix and Redris
"Steven Knight lets his vocals ride and take control of the building beat. He sings so effortless."
http://eotmblog.com/2014/07/music-review-steven-knight-%E2%80%93-on-my-way/

Click below to hear Steven's knew single "On My Way".  This song was produced by Feenix Elektrik co-written by Knight and Elektrik and Redris contributed with vocal arranges.  "On My Way" will be available on iTunes and other digital media outlets later in July.
Steven will open the Devour Fashion & Networking Event this coming Saturday, May 3rd, 2014.  He will perform his new upcoming single "On My Way" that will be released later that month.  See below for details:
/